Mission & Vision
Update:

Source:

Kaohsiung Rapid Transit Corporation

Views:

1349

History
Since the construction of the "Kaohsiung Rapid Transit System – the Red and Orange Lines Construction Project" was announced by Kaohsiung City Government (hereunder briefed as "KCG") on February 1, 1999, China Steel Corporation invited other companies began to organize the "Kaohsiung Rapid Transit Corporation Preparatory Office" for initiating the investment in the Kaohsiung Rapid Transit System (hereunder briefed as "KRTS"). On May 10, 2000, the "Kaohsiung Rapid Transit Corporation (KRTC) Preparatory Office" was rated as the most favorable applicant by the Selection & Review Board established by KCG and the company was incorporated after the contract negotiation with KCG, and the company license was granted on December 28 of the same year. Later on January 12, 2001, the KRTC signed the "Construction and Operation Contract" and "Development Contract" with KCG and started the construction from October 2001 to formally commence the KRTS project. After six more years of construction, the Kaohsiung MRT Red and Orange lines started regular service from 2008. According to the contract, a total of 36 years will be granted as the concession period for the building and operation of the KRTS starting from the work commencement in the end of October 2001 to the end of October 2037.
The paid-in capital of KRTC amounts NT$10 billion and the contribution members include China Steel Corporation, National Development Fund Executive Yuan, Far Eastern Group, Veterans Affairs Council, Southeast Cement Corporation and Uni-President Group, which are well-known firms and institutes both domestically and globally. The KRTS system will be built and operated by maintaining the philosophy of "Set foot in Kaohsiung, Feedback Kaohsiung and Develop Kaohsiung". In future, the KRTS will significantly shorten the communing and traveling time of the citizens and expand the living territory of urban residents to making them experience a safe, reliable, convenient and comfortable transport service.
The rapid transit system is more than just traffic transport. It not only brings convenient transportation to people, but is also the source of shaping a modernized urban pattern and is the driving force for a better lifestyle. In addition, the KRTS will combine public arts to cultivate an active and quality-wide MRT culture by playing a soft-touch role in public arts. On this basis, it is hoped that a fresh style may be shaped for this harbor city in providing an environment for citizens to access artistic life and bringing a brand-new look for the southern area of Taiwan.

Core Value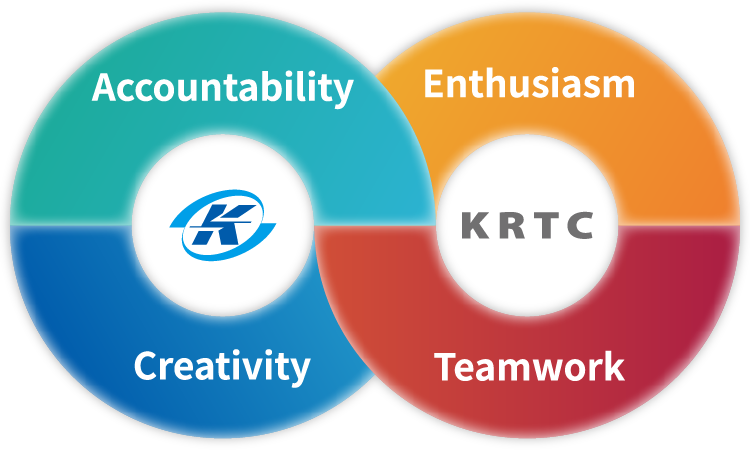 Accountability, Creativity, Enthusiasm, Teamwork

Mission
Contribute to the promotion of high-quality public transport and the development of Kaohsiung City.

Vision
Shape Kaohsiung Metro as the new landmark in the city and work ceaselessly to be a first-rate rapid transit system of the world.